Saturday Morning Astrophysics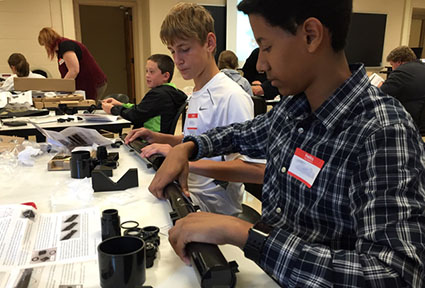 Saturday Morning Astrophysics at Purdue (SMAP) is a monthly program for Indiana high school and upper level middle school students offered by Purdue University Physics and Astronomy Outreach. We draw from current research, resources and expertise from within the department and across the Purdue community to introduce and explore concepts related to astronomy and/or astrophysics at a level appropriate to our participants. Our goal is to engage grade 6-12 students with learning experiences that are not typically a part of classroom instruction. For example, students will learn about the formation and evolution of our solar system, how we know "what's out there," as well less familiar topics, like the birth and death of stars or the search for iniquitous dark matter.
Purdue researchers and scientists will introduce each SMAP session with the topic of the month and then introduce an experiment or activity in which students will work together to further explore relevant concepts.
SMAP is offered on the second Saturday of each month beginning in September and running through May. Registration for SMAP will remain open throughout the semester until we reach the maximum number of students we can accommodate. Even if you cannot attend one or more sessions, you are welcome to register for any remaining sessions at any time. You only need to register once. Registrations will be accepted on a first come first serve basis.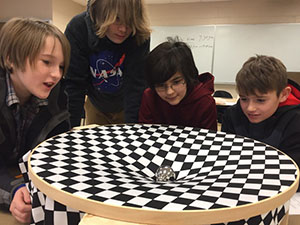 There is no charge to participate in SMAP, but you must register.
SMAP sessions begin at 10:00 AM and run until noon, unless otherwise noted. We will provide the details for the monthly sessions, exact location, things you might need to bring, and other relevant information by email several days prior to each SMAP session.
For any additional information, please contact Physics and Astronomy Outreach Coordinator David Sederberg at dsederbe@purdue.edu.
2018-2019 Sessions  Register Now  Campus Map
Highlights from past SMAP programs
Last Updated: Sep 4, 2018 1:31 PM